The hard facts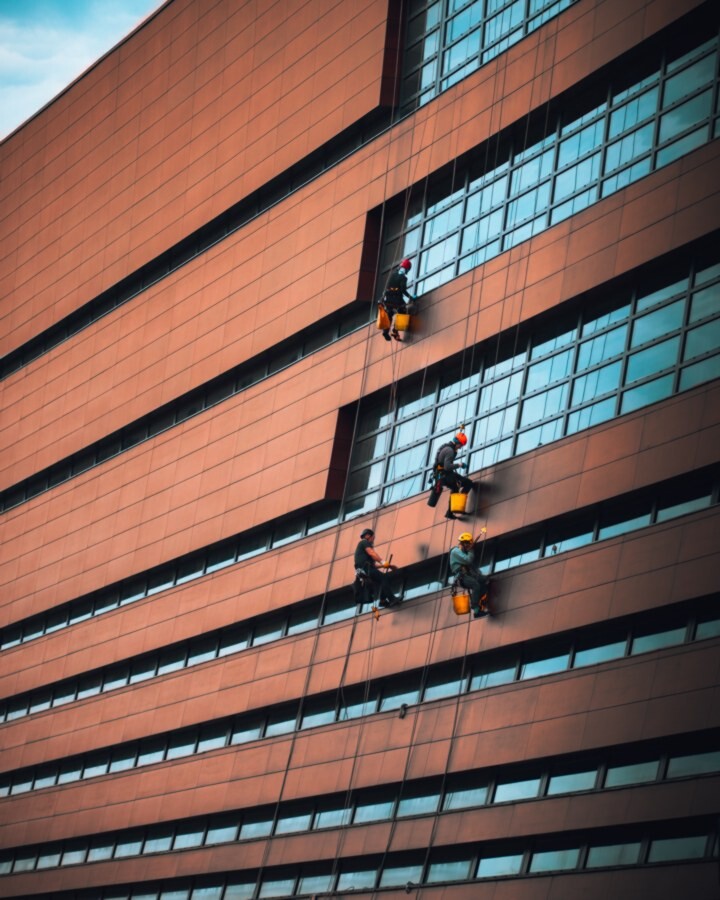 Although statistics are steadily improving, falls from height still pose one of the greatest safety risks in the workplace. Between 2021 - 2022 there were 129 fatal workplace accidents in Britain, out of which 29 were attributed to falls from height. The number of work-related fatal injuries has been on a steady decline over the past decades, however, the fact that work-related deaths are still occurring demonstrates that there is still plenty of work to be done.
Some jobs inherently carry a greater risk of falling from height. Anyone who regularly works on scaffolding, operates a mobile elevating work platform or scales pylons for a living is regularly exposed to the hazards of working from height yet, ironically, most injuries are caused by falls from relatively low heights. It's a matter of logic:
Taller structures are less abundant, so there are fewer people working at great heights than working at ground level.
Workers are more willing to take risks at heights they deem to be "probably safe".
There are stricter safety measures in place for falls from great heights as these are more likely to prove fatal.
Falls from shorter heights
As imposing as it may be to see a window cleaner abseiling down a skyscraper or an electrician carrying out maintenance on a pylon, the truth is that a great deal of consideration and preparation has gone into the safety arrangements. Statistically, you are more likely to die falling from a low height than from a greater one. Typical accidents that illustrate this include falls from scaffolds, falling off or through roofs and overstretching and falling from a ladder.
Taking shortcuts to save time can be an important factor. It may seem like less of an effort to stretch to reach for something when you are on a ladder than to climb down, move it and climb back up. It is also common for operators using personnel lifts or PAV (push-around vertical lifts) to climb over the cage railings when working at height, which has led to some manufacturers designing railings for their work platforms that hinder this.
An accident waiting to happen
It is in everyone's interest to reduce the number of accidents in the workplace, particularly those with such dramatic outcomes. Oversights and negligence account for a great number of accidents, and the dangers of working at height can be greatly exacerbated when there is failure by a worker, manager or team to:
Recognise or fully understand potential hazards.
Provide safe work guidelines and equipment.
Monitor and enforce safe work systems.
Provide information and training.
Provide safety equipment.
Ensure that all equipment used meets safety standards.
The importance of good planning
Preventative planning is of critical importance for any project where there is a risk of falling from height. When analysing the hazards of working at height, a thorough risk assessment should be carried out by a person or persons whose qualifications or experience are suited to the task. Thorough planning should always include:
Identifying all existing and potential hazards on a site.
Preparing specific working guidelines for each part of the projects.
Providing the correct safety equipment.
Ensuring all tools and equipment meet the necessary safety standards.
Providing clear instructions and training to workers that covers each of a site's potential hazards.

Control measures
The risks of working at height can be mitigated considerably by following a few simple control measures in these simple steps known as the "fall from heights hierarchy of control", these are:
1: Eliminate the hazard if possible by performing the assigned task on solid ground. For example, if you have to repair a TV aerial, remove the aerial, carry out the repair work on the ground and then replace the aerial. Minimise the time you have to spend at height.
2: Use fall prevention devices such as railings, safety nets or any other appropriate form of safety equipment.
3: Where a risk cannot be eliminated, put barriers and other measures in place to limit access to hazardous areas. Use means to mitigate falls, or to reduce the distance of falls.
4: Use harnesses and protective PPE if necessary.
Always remember that people, materials and equipment falling from height can also pose a threat to anyone working beneath them, so adopt safety measures that consider this risk.

Protect your team from the dangers of working at height by:
Limiting time in the air and carrying out as much work as possible from the ground.
Ensuring that all access machines or structures have been safety checked.
Ensuring that all access platforms, machines and ladders, meet all the weight and height requirements for the job and are appropriate for the surface they will be positioned on.
Checking that all site safety measures are in place.
Providing the correct PPE.
Making sure that all workers have the correct training.
Overseeing that access equipment is used correctly (with no overarching from ladders, jumping over guardrails or placing ladders or access platforms on unsteady surfaces).

Choose the best access equipment for your job
At Drogheda Hire, we understand the dangers of working at height and the risks this poses to your team. Our experienced sales team are on hand to offer expert advice on all of our equipment and will be happy to discuss your site safety concerns with you. We offer a large range of powered access solutions including scissor lifts, vertical mast lifts, power towers, personnel lifts and cherry pickers. As well as ladders, aluminium towers and other manual access solutions. For questions or advice, please call us at our Drogheda centre on 0419 84 14 19 or our Dublin centre on 01-9108757. Alternatively, visit your nearest depot at Long Mile Road in Dublin or Cement Road in Drogheda. We look forward to hearing from you.

Sources:
https://www.hse.gov.uk/statistics/pdf/fatalinjuries.pdf
https://www.hse.gov.uk/statistics/overall/hssh0102.pdf