Winter working conditions
Winter working conditions in the UK can be extremely harsh, especially for anyone working outdoors. Poor lighting conditions can pose a work hazard, as can wet weather. If you factor in work with heavy machinery, construction sites soon rise up as one of the most perilous work environments for work in cold weather.
Outdoor work and winter hazards
Winter weather has a deep effect on workers, ground conditions, materials and productivity as a whole. Winter working conditions can be both dangerous and uncomfortable. Without correct management and provision, the ill-fated winter construction site can be a breeding ground for accidents. It is imperative that construction companies are fully aware of the effects of cold weather on construction sites and workers in order to mitigate discomfort and hazards.
Effects of winter conditions on a construction site
Winter weather can have an effect on just about every aspect of work on a building site. From unfavourable lighting conditions to the perils of ice or snow build-up on machinery. Let's have a look at some of the most important winter hazards on building sites:
Ground conditions
Ground conditions on a building site or any outdoor site can be an important issue for winter construction safety. Frost, ice and snow can pose a serious risk, making the ground slippery for workers, but also for machines, materials and structures. The ground may also become water-logged. Boggy conditions can pose a sinking threat for heavy materials and for heavy machinery such as cranes, excavators and scissor lifts. Incorrectly assembled structures such as scaffolds can be at risk of sinking and/or tipping.
Materials
Building materials can be affected in a number of ways by the cold winter weather. Some water-based materials may experience extended drying or setting times, altered viscosity or other structural changes when exposed to the cold.
Precipitations can also affect materials. The weight of gathered snow or ice can affect the integrity of structures; temporary roofs and other structures may be at risk of collapse under the additional weight. Snow or ice build-up can also add weight to loads that are to be moved around the site, so this should be factored into lifting operations.
Machines
Cold weather, ice and precipitations put a strain on mechanical and electrical equipment. The additional use of heating and lighting functions can add wear and tear on batteries, decreasing electric machine duty cycles.
The cold also has an effect on a number of materials: metals contract, plastics harden and can become more brittle, machine fluids may suffer a change in viscosity, etc. Condensation or rainwater can make their way into the moving parts of machines and freeze, hindering machine operation. There is also the risk of snow or rain filtering into electrical installations.
People
Workers exposed to cold weather are at risk of suffering from cold stress. Cold stress is a term that encompasses a group of ailments caused by prolonged exposure to the cold. These ailments can include frostbite, trench foot and hypothermia amongst other conditions. Working in cold conditions can also hinder concentration and impair judgement, leading to poor decision making and unnecessary risk taking.
Improving conditions
Outdoor winter construction safety requires special measures to be put into place in order to offer workers the safest, most comfortable environment and to eliminate any hazards.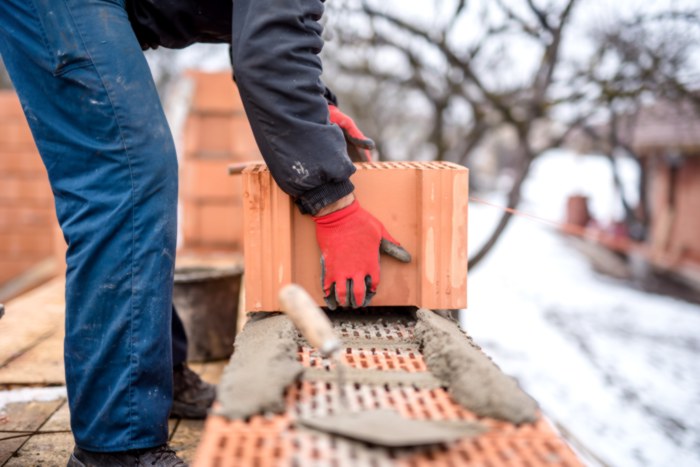 Site safety
Site safety can be improved by carrying thorough risk assessments, identifying any existing and potential hazards. The addition of flood lighting will improve overall visibility on the site, while portable lighting solutions can help mitigate risks caused by poor visibility in a particular area or whilst carrying out a particular task. Using hazard lighting or festoon lighting throughout the site to mark hazardous areas will also improve site safety, as will the use of clear sign posts and barriers. Choosing tracked machines for operation on uneven or damp ground may prove beneficial as these machines are generally sturdier than wheeled machines and have a lower risk of sinking or becoming stuck.
Routines and procedures
Make sure that site safety procedures are appropriate for the time of year and weather conditions. Keep the site clear of snow, leaves and ice. Ensure that paths and walkways are gritted, if appropriate. Make sure you have any machines, equipment or materials on site to deal with whatever your clearance tasks may be whether it be pumping equipment for draining flooded areas or shovels and salt for clearing and gritting paths.
Machine maintenance
Whether your site equipment includes diggers, cranes, access equipment, hand tools or all of the above, be sure to follow the manufacturer's instructions as regards storage and operation in cold weather. Most manufacturers will advise that machines are stored under shelter wherever possible, or that they are covered. Some machines will have to be warmed up before use in the cold. Some have specific operation instructions when temperatures dip below 0°C. Winds can be a risk factor for cranes, access platforms and other machines or structures designed for work at height.
Machine derating is usually advised for the operation of machines in snow, heavy rain, high winds, extreme cold and other conditions, so pay close attention to manufacturers' instructions for each machine.
PPE and welfare
Workers on site are the greatest cause for concern, as their susceptibility to cold weather makes them the victims and, oftentimes, the cause of a great number of accidents.
It is essential that all workers are trained in winter construction safety, in the operating parameters of their tools and machines in the cold and in recognising the signs of cold stress in themselves and others. Contractors must provide appropriate PPE, ensure that the site is safe and provide appropriate welfare facilities for all workers onsite.
Why choose Drogheda Hire to equip your winter construction site?
At Drogheda Hire, our team of experts have been providing highly specialised plant and tool hire services for almost 30 years. We can advise our clients on the best tools and equipment for work in the cold of winter and can provide a range of winter site solutions including lighting, signage and power generation equipment. For more information on our range, get in touch with us on 0419841319. Our friendly team will be happy to answer any questions you may have.