What Size Boom Lift Do I Need? How to Choose the Right Boom Lift For the Job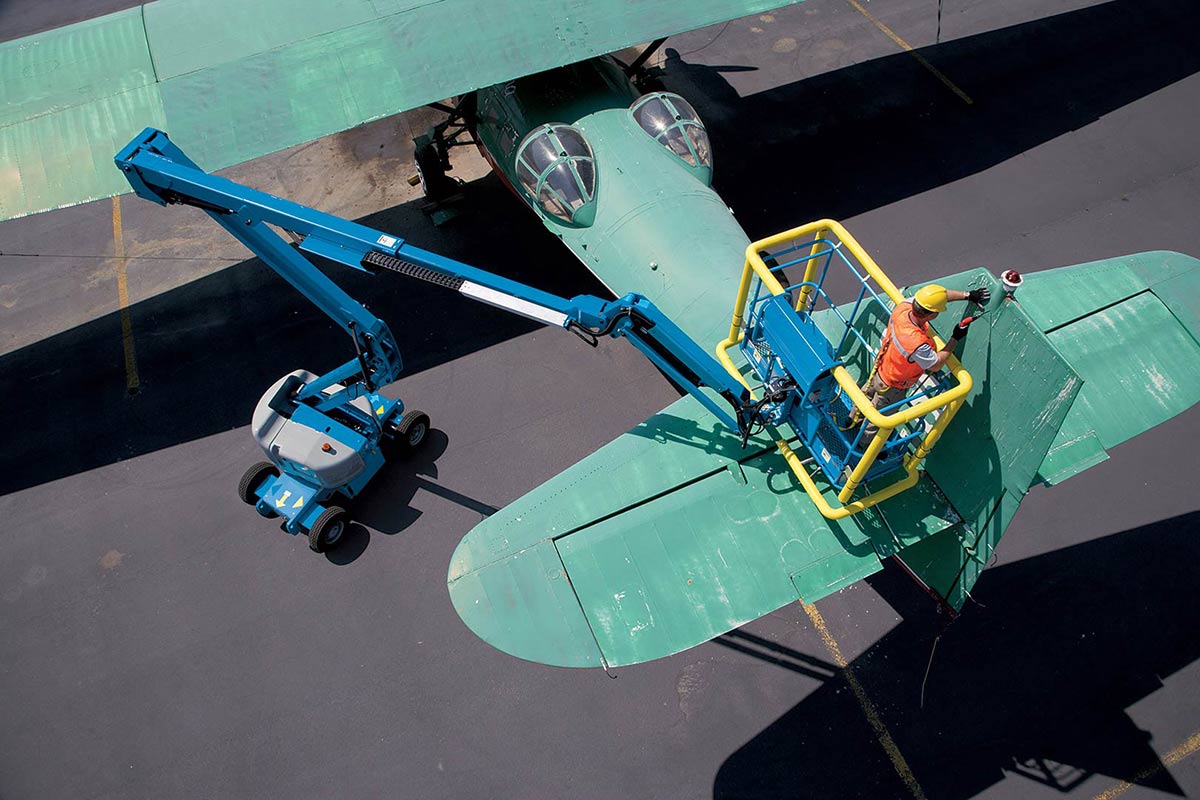 The modern boom lift is a versatile piece of construction machinery, increasing in popularity on sites across the UK. Boom lifts can reach extremely tall heights, with the highest boom lift we offer here at Drogheda Hire & Sales, reaching 28 metres. There are two main types of boom lift available to users, articulating and telescopic boom lifts. They also come in various sizes and platform heights, each suitable for different tasks.
Here, we discuss everything you need to know before selecting your next boom lift hire. We include an in-depth analysis of the types of boom lifts available, a guide to choosing the right size for the task at hand and why hiring is superior to buying. If you'd like to learn more about the types of boom lifts we offer for hire, please get in touch. Call us on 0419841419 and speak to one of our knowledgeable team members today.
Types of Boom Lift
Articulating Boom Lift
Also referred to as "knuckle booms", articulating boom lifts are aerial platforms with multiple sections that "articulate", allowing the operator to gain access to work areas over barriers. Articulating boom lifts are perfect for projects where mobility is more important than height capabilities. Due to its bendable joints, this type of boom lift is easily manoeuvrable across a construction site. So, if you're working on a large, busy job site, an articulating boom lift will likely be a great option for you. Outdoor "knuckle booms" are usually diesel-powered, or can be towed onto a construction site.
At Drogheda Hire, we offer a range of articulating boom lift hire options, from 11-28 metres. If you'd like to find out more about the types of boom lifts we stock, please do get in touch.
Telescopic Boom Lift
Commonly known as "stick booms" due to their straight appearance, telescopic boom lifts are aerial platforms with sections that extend telescopically. Ideal for areas with limited access, telescopic boom lifts are the ideal combination of both optimum height and width. Telescopic boom lifts are the highest boom lift available, with the tallest reaching a working height of up to 56 metres. Therefore, this type of boom lift is perfect for projects working at significant heights, for example, high-rise building construction. Telescopic booms often feature a wider base than articulating lifts, and often require a work surface of 10ft or more. However, because they are designed using only a single boom, they are often said to be easier to operate than their counterparts.
We're pleased to supply our customers with a broad selection of telescopic boom lifts for hire. If you'd like to find out more about our boom lift hire rates, contact one of our friendly staff members today.
Benefits of Boom Lift Hire
One of the most common benefits of opting for boom lift hire as opposed to making an outright, costly purchase, is the significant decrease in project outgoings. Hiring a boom lift is much cheaper than buying, and means you'll have more money to budget for other areas. Also, hiring a boom lift means you won't be responsible for funding any maintenance or servicing, as your chosen hire company is obligated to cover all repairs and replacements.
There's no denying that boom lifts are one of the largest pieces of machinery found on construction sites. Therefore, finding somewhere to store them once a project is complete can often be a difficult, inconvenient task. Choosing to hire your boom lift means you won't have to worry about finding somewhere permanent to store this large piece of equipment between projects. Instead, when you choose us, you can simply keep your modern boom lift for as long as you need it and we'll collect it when you're done!
What Size Boom Lift Do I Need?
No matter the task at hand, there is sure to be a modern boom lift to suit your needs. When choosing the right lifting equipment for your construction site, it's important to consider a variety of factors. Firstly, you will need to evaluate the amount of workers needed on the platform, and the types of tools they'll be using to complete their duties. You'll also need to think about how much weight the lift will need to carry. Once these factors have been considered, you can begin the process of choosing the right size boom lift hire for you.
Boom lift sizes refer to the necessary dimensions of the machinery. These are height, range and weight. Knowing this information ahead of time, along with the space available on site, will help you accurately decide which type of boom lift will work best for you.
At Drogheda Hire, we're pleased to offer a range of modern boom lifts, from a variety of brands, including Dingli, Genie, Skyjack and many more. If you'd like to find out more about our boom lift hire services, please do get in touch today. Call us on 0419841419 and speak to one of our friendly, expert team members today.